The Russian Foreign Trade Academy is the team of highly intellectual, competent, creative employees, experts in the spheres of their profession.
The Russian Foreign Trade Academy is a team of highly intellectual, competent, creative employees, experts in their profession.
Eleven sub-departments of humanities, mathematics, general professional and special disciplines function at the Academy. English, German, French, Spanish, Italian, Portuguese, Chinese, Arabic and other languages are taught at five chairs of foreign languages. More than half of the tutors of the Academy have academic degrees and titles.
The Professorial and Tutorial staff of the Academy is represented by distinguished scientists, authors of numerous publications well known and respected both in Russia and abroad.
Many of the tutors are former executives of federal governmental bodies, trade representative offices, foreign trade enterprises and international organizations. Many of them are employed at present as experts in federal governmental bodies and committees of Duma, as well as in different commercial organizations, which is indicative of their high creative potential. Practically all the tutors of legal disciplines actively participate in the functioning of the International Commercial Arbitration Court at the Russian Chamber of Commerce and Industry.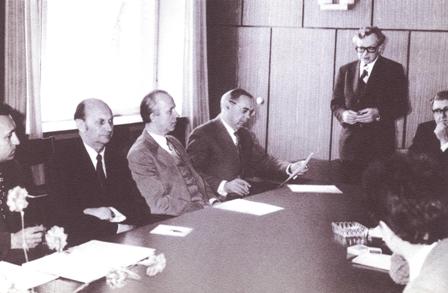 Tutors of the Academy are acknowledged experts in different spheres of foreign economic relations activity.
They are the authors of numerous monographs, textbooks and training aids, well known in Russia as well as abroad. About 150 publications are written by professors and tutors of the Academy. Many of them are considered to be the basic textbooks in their sphere and have obtained recommendations of the RF Ministry of Education and Science.
Many famous scientists and specialists-practitioners have been working in the Academy during more than 80 years of its existence. Professors A.A. Zmeul, I.S. Potapov, N.N. Inozemtsev, B.S. Vaganov were at the head of the Academy as rectors at different stages.
Such scientists as academician of the Academy of Science M.N. Baranskiy, corresponding member T.V. Ryabushkin, Doctors of Economics and Professors N.N. Liubimov, L.I. Frey, V.S. Motylev, P.K. Figurnov, V.F. Vasiutin, V.I. Zolotarev, A.N. Goncharov, E.P. Pletnev, F.M. Levshin, V.A. Brykin, Y.E. Vlasievich, A.F. Fesenko, Y.N. Kapelinskiy, G.S. Hohlov, L.G. Shatov, V.G. Michalev, K.G. Voronov, N.A. Pitertsev, G.E. Koftov, I.S. Matiuhin, V.P. Shalashov, K.V. Pavlov, Doctors of Law and Professors D.M. Genkin, V.S. Pozdniakov, S.V. Molodtsov, YI. Sviadosts, I.L. Kovan, A.G. Dmitriev have laid the foundation in teaching a number of economic and legal disciplines.
Many eminent specialists-linguists, Professors F.Y. Izrailevich, B.S. Kandinskiy, B.F. Korndorf, V.M. Borisov, associate professors K.N. Kachalova, S.V. Dmitrieva, M.A. Babayan, Z.F. Basurina, O.E. Petrenko have made a major contribution to the formation of the chairs of foreign languages.
Economists renowned for their scientific achievements, professors G.G. Matiuhin, A.B. Kupriianov, V.A. Burenin, A.S. Belorusov, A.P. Ognev, E.G. Ischenko, B.I. Sinetskii, V.A. Soloviev, G.M. Tuchkin, A.B. Frumkin, well-known lawyer professor O.N. Sadikov, associate professors K.A. Lukianova, M.G. Shavina, M.P. Kipiatkova, R.S. Surmonina, I.V. Voskresenskaia, A.N. Markova, S.A. Volodina, linguists, professors N.A. Bonk and A.V. Pimenov worked at the Academy in different years.

Professors and tutors of the Academy are still notable for their high scientific and teaching potential, which makes it possible to ensure high-quality training of specialists and successful scientific research. Doctors of sciences, professors S.A. Bartenev, E.V. Bauman, A.I. Belchuk, N.G. Vilkova, E.Y. Volynets-Russet, G.V. Grinenko, S.I. Dolgov, I.I. Diumulen, I.V. Zenkin, I.S. Zykin, A.S. Komarov, V.I. Korolev, M.I. Lapitskiy, D.S. Markov, V.P. Medvedev, V.N. Melnikov, V.A. Oreshkin, Y.V. Piskulov, V.M. Raspopov, M.G. Rozenberg, S.G. Sinelnikov-Murylev, O.V. Sokolova, A.V. Sotnikov, G.S. Starodubtsev, A.N. Spartak, V.B. Supian, V.P. Obolenskiy, K.V. Holopov, V.M. Shumilov, T.A. Yugai, L.A. Chaldaeva, L.G. Zaitsev, Y.A. Savinov… this is far from being the full list of the names of key tutors that are now sharing their experience and knowledge with students and attendees of the Academy.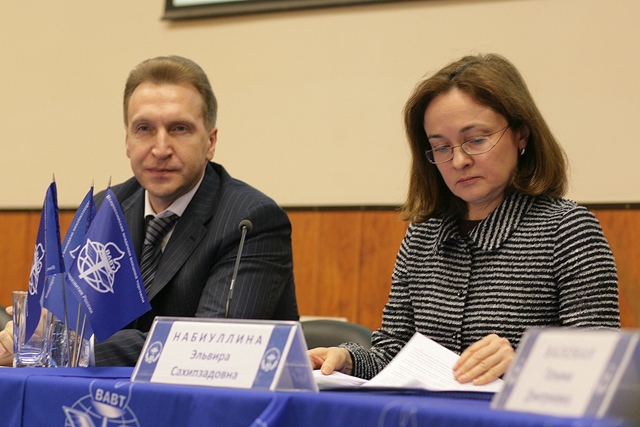 Specialists, employed at the Academy on contract basis, make a significant contribution to the teaching process along with the staff tutors. Among them are employees of federal bodies, of different ministries and governmental offices, scientists of world-wide reputation and politicians. Representatives of big holdings, foreign companies and institutes, executives of ministries and governmental offices regularly deliver lectures to students, attendees and tutors of the Academy, conduct master-classes, give presentations on urgent problems of international economic activity.