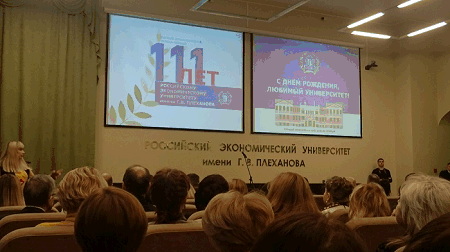 On February 15-16, 2018 Plekhanov Russian University of Economics hosted 9th International Applied Science Conference on: 'CHALLENGES OF THE DIGITAL ECONOMY: RUSSIA vs GLOBNAL TRENDS"
https://www.rea.ru/en/conference/econom/Pages/default.aspx
.
Experts of the Institute for Macroeconomic Research of the Ministry of Economic Development of Russia took part in the conference. S. Naumov, the head of MBO Laboratory of the Center for Strategic Budget Planning made a presentation "On Evaluation of Innovativeness of State Programs of the Russian Federation" within the framework of the section "Digital Economy and Economic Security of Russian Regions".
I. Kirichenko, the head of the Center for State Regulation, Investment and Institutional Development together with A. Smirnov, the head of the laboratory for State Investments and Projects with the State Participation of the above Center gave a talk on "Investment Potential of Russian Regions in terms of their Economic Security and Digital Economy Development". As per the results of the Conference, the speeches of the participants shall be published.