AWARDS
May 19, 1981 Order of Peoples' Friendship
On its 50-th Anniversary the Academy was awarded the Order of Peoples' Friendship for achievements in training of highly qualified professionals in the field of economic, scientific and technical relations of the Soviet Union with foreign countries.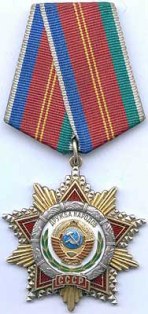 ---

Diploma
of the Presidium of the Supreme Soviet of the USSR
on award of the Order of Peoples' Friendship to the RFTA
May 19, 1981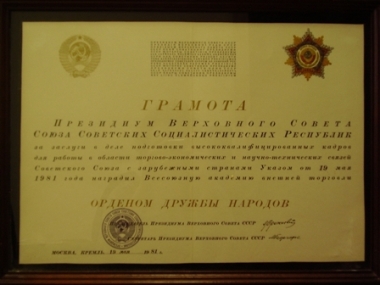 ---


'The Golden Mercury' International Award
May 19, 1981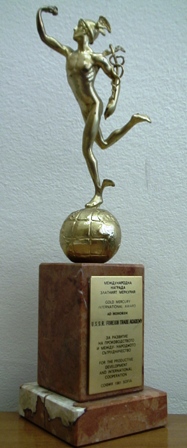 ---


Commemorative Medal and Certificate of Award
of the Chamber of Commerce and Industry of the USSR
May 19, 1981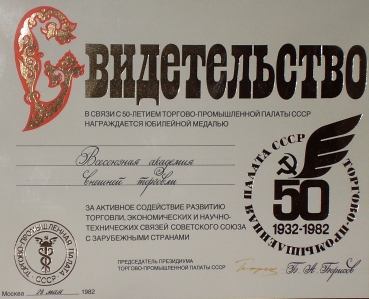 ---


In 2006, Sergei I. Dolgov received Letter of Gratitude from the President of the Russian Federation V.V. Putin for his service in the training of qualified specialists and long-term conscientious work.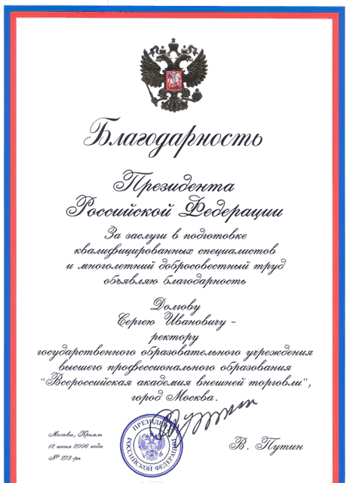 ---


Certificate of Merit of the Moscow City Duma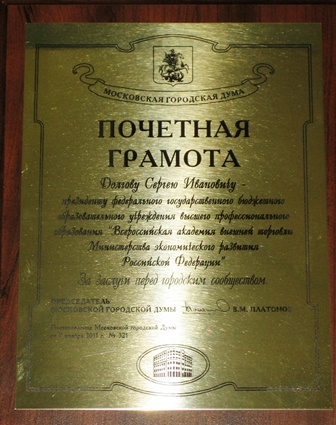 ---


Decree of the President of the Russian Federation # 856 dated June 14, 2012

Rector of the Russian Foreign Trade Academy
Sergei Germanovich Sinelnikov-Murylev
Is awarded the ORDER of HONOUR in recognition of merits in the field of education, science and for great contribution to the training of qualified specialists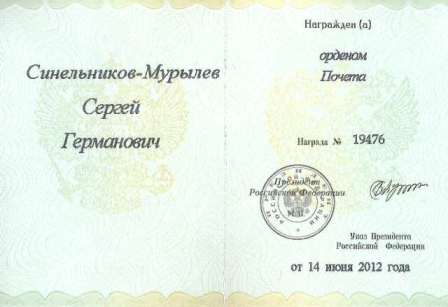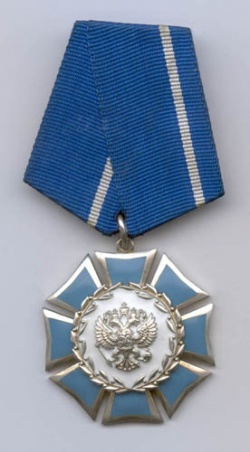 ---


On April 18, 2014 at the extended Board Meeting of the Ministry of Economic Development of Russia, D.A. Medvedev, Prime Minister of the Russian Federation presented the Order of Friendship to Sergei Ivanovich Dolgov, the Academic Director of the Academy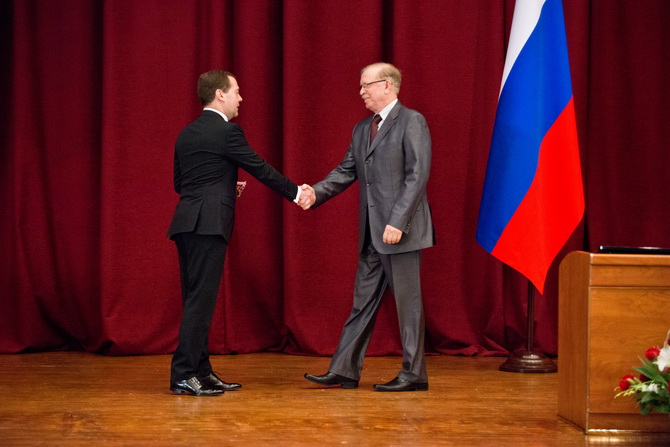 ---