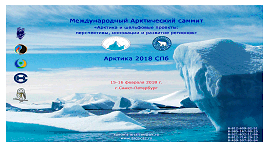 The theme of the Summit-2018 is: "Arctic and offshore projects: prospects, innovations and development of regions" (ARCTIC 2018, SPb).
Within the framework of the Summit, the working session "Shelf projects of the Arctic zone of the Russian Federation and modern technological complexes" was held by S. Lipina, Deputy chairperson of the Council for Study of Productive Forces (CSPF) of the Russian Foreign Trade Academy of the Ministry of Economic Development of the Russian Federation.
At another session, "Legislative Support for Development of Arctic Projects and Attraction of Investments to development of their Infrastructure" S. Lipina made a presentation on the topic: Application of special economic regimes in the Arctic zone on the territory of the Russian Federation, in which she presented the results of applied scientific research of the CSPF of the RFTA for 2016 - 2017. The summit covered the whole range of issues on the efficient implementation of the new state policy in a vast and unique region, the Arctic zone of the Russian Federation.