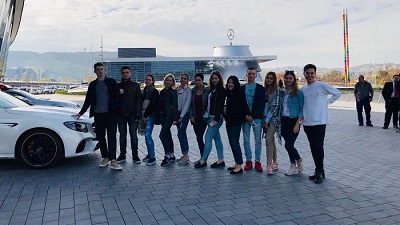 Short internship program for the RFTA students at Heilbronn University (Germany):
The topic of the internship was
"Perspectives of the international business: challenges for economic cooperation between Russia and Western Europe"
.
In two weeks our students prepared and delivered their projects in English, touching upon such topics as "National stereotypes of Russia and Germany", "Specificities of modern business culture", "National management models", "Peculiarities of implementing of social responsibility principle in both countries", "Analysis of mechanical engineering sector of the economy".
In addition, the RFTA students attended lectures given in English on the world economy, microeconomics, marketing and human resources management. Heilbronn University warmly welcomed the students of the academy and involved them in an extensive cultural program. During two weeks' stay in Germany our students visited the world's largest chemical concern BASF in the city of Ludwigshafen, the museums of Mercedes-Benz and Porsche in Stuttgart, the University of Galdenberg, the city of Frankfurt am Main and Munich, etc. The students were satisfied with the internship and highly marked their experience of communication with colleagues, as well as the experience in delivering presentations .
Heilbronn University is one of the leading institutions of higher education in Baden-Württemberg (Germany). Currently, the university trains about 8,000 students not only from Germany, but also from other countries of the world. Over the past two decades, Heilbronn University has become a regional leader in technology-focused fundamental and applied research.
Since 2010, the RFTA together with Heilbronn University have been implementing an international baccalaureate student exchange program. The program is designed for the students who have successfully completed the 2nd year of studies and are promoted to the 3rd course, are fluent in English (written and oral), since the training is given in English, and, besides, have basic knowledge of German language.