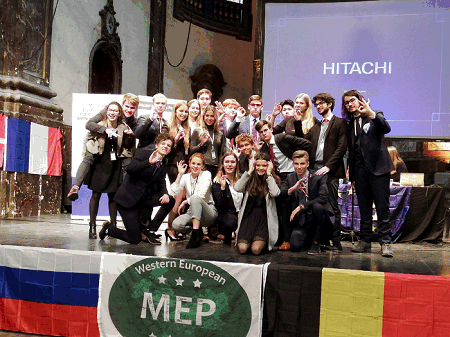 Anna Tsitsenko, a third-year student of the International Economists' Department, a chairperson of the Student Council of the RFTA, participated in the European Youth Parliament as a member of the Russian delegation. The conference was held on January 26-30 in the city of Lear, Belgium.
After the conference, an environmental program was organized for the Russian delegation, during which meetings were held with environmental scientists, statesmen, company managers, school students and representatives of the youth green movement of Belgium.
The European Youth Parliament is an opportunity to take the initiative, to speak on behalf of your country, to state your position and find like-minded people from different countries of Europe.
This year Russia participated in European Youth Parliament for the first time. Anna Tsitsenko, 3rd year student, shared her impressions:
The trip was unforgettable! First, in the small Belgian town of Lear, I met young people from Belgium, Germany, France, Italy, Holland, Luxembourg, Denmark, Great Britain and Norway. We worked together on the resolution of the European Parliament (I, in particular, worked in the economic committee where we analyzed the problem of unemployment among young people). Our meetings with ecologists of Belgium after the conference showed me that a long-term hard work stands behind the "green economy", which , in fact, is within everyone's reach. The most important thing is personal desire and responsibility of each individual and his /her love to the country and its nature! After all, it is something that is really important not only within the framework of one country, but of the whole mankind!